Luminous Black Denim Aprons
$28.90
Intro
Luminous Black Denim Aprons have 100% Pure Cotton Denim material. Cross straps, long-lasting material will remind you of favorite jeans. Mid-weight material provides a stylish look yet professional.
Chef-uniforms Australia believes in creativity and new designs. We provide high-quality products at an affordable price. Our team is always looking for new styles and customer experience. Our Unisex Denim Aprons are suitable for multi-purpose usage.
High-quality denim Aprons are very famous in hospitality and grooming industries. Our Luminous black Denim Aprons can be usable for bartender, restaurant & dining staff, cafe, dining staff, florist, Tea Shop staff, Barbers, hairdressers, book shop workers, Different Factory workers, and Individuals.
It is suitable as a gift for Mother's Day, Father's Day, Christmas or birthday.
Style – Luminous Denim Aprons 

Colour- Black

Front Pocket- Large 2 pockets 

Straps- Cross straps  adjustable from the waist and neck.

Material- 100% Denim

Front Pockets- 25 x 20 cm, 16 x 12 cm
Convenient Pen Pocket- 20 x 9 cm

Size- 70 x 80 cm (fit to all)

Straps – 130 cm
11 in stock
Luminous Black Denim Aprons are also available in Blue color. Cross straps provide ease of comfort in long working shift.
Material Specification
Luminous Black Denim Aprons are made from 100% pure cotton Denim material. High-quality and heavyweight stone-wash denim will not fray, ravel or untangle from edges.
Durable, long-lasting material will keep its authentic denim look for a longer time. This strong performance fabric with its quality stitching is comfortable around the body and easy to wash.
Straps
Cross Straps and waist ties fit different body shapes. It makes 2 loops at the waist for your tools and towel. Straps have different color which provides an authentic and stylish look in your professionalism.
Pockets
Luminous Black Denim Aprons have 3 Different Sized pockets. Spacious big pocket to fit your utensils, Medium-sized pocket for your Mobile phone, and small-sized pen pocket. All pockets have big enough for tools, notebooks, cell phones, necessary work items and more.
Check it out our chef jacket, chef hats and chef apron to get the special deal.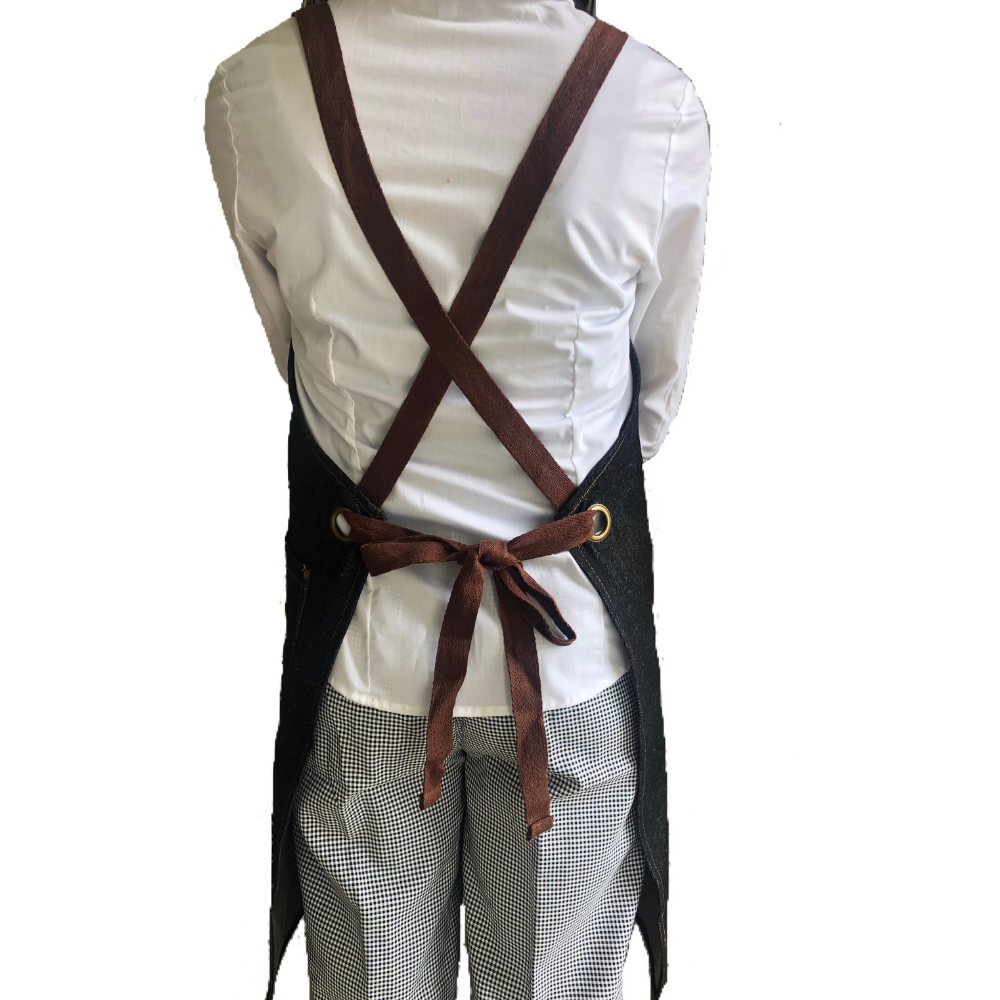 FAQs
Q: How can I take care of jeans Apron?
Denim cotton can fade the color in the first few washes. We would recommend washing them separate in the first 2-3 washes. 
Q: Can I dry my jeans apron in the sunlight?
We will recommend regularly drying in a shade. Due to natural fiber like cotton, it can shrink easily in direct sunlight.  
Q: Why are some jeans apron more expensive than others?
Jeans Apron price depends on the material used, style and finishing. Cotton denim material can be more expensive then polyester blended denim. 
Q: How can I wash my Denim Apron?
Cold washes with a mild detergent and then hang your apron in the shade. I would recommend that never use chlorine bleach.
Q: Should I soak the apron in the hot water?
Denim aprons can be soaked in cold water. Color can fade faster in hot water. If you soak in boiling water then the leather patch will get damaged.
Q: How often should I wash my Jeans Apron? 
Its depends on your usage. If you continue wearing dirty denim aprons, it will damage soon. The strength of the fabric gets weak unless you wash it. Moderate washing is necessary. You should watch the condition of the fabric and wash your jeans apron regularly. 
Q: How can I store my jeans Apron?
You should hang it in an airy place. If you always kept them folded in a drawer then they will get wrinkles.
Q: Should I iron my Jeans Apron?
Denim cotton is sensitive to heat. If you hang the jeans apron directly after washing then it won't shrink. You don't need to iron them.
Features
Style – Luminous Denim Aprons 
Colour- Black
Front Pocket- Large 2 pockets
Straps- Cross straps  adjustable from the waist and neck.
Material- 100% Denim
Front Pockets- 25 x 20 cm, 16 x 12 cm
Convenient Pen Pocket- 20 x 9 cm
Size- 70 x 80 cm (fit to all)
Straps – 130 cm